🚨🚨 Attention! 🚨🚨
(Ghoulcraft is owned & operated by MissGhouls)
Kao (link to a profile?) has been granted sole permission to port Ghoulcraft to Minecraft Bedrock/PE. This is a HIGHLY requested project, and requires an astronomical amount of work. Please be patient with both MissGhouls and Kao as they work together to bring you this much-anticipated project for your enjoyment.
[ABOUT GHOULCRAFT BE]
Ghoulcraft BE is an entirely different version than Ghoulcraft Java!
Ghoulcraft BE uses a Data-Driven Block method or CIM (Custom Item Model). You do not need any other special packs to use this. Ghoulcraft BE uses "Modified-Vanilla Textures" as of the moment, and will not look exactly like java edition items. Ghoulcraft BE only works on Minecraft Bedrock/Pocket Edition 1.16.200+

Please check the Ghoulcraft BE [Discord] if you have any problems.

What is Ghoulcraft BE Pack?
Ghoulcraft BE is an integrated version of MissGhoul's Ghoulcraft for Java. Ghoulcraft BE is an Add-On for Minecraft Bedrock/Pocket Edition 1.16.200+ and functions as a furniture and decoration - similar to what a mod can offer.

These blocks cannot be interacted with and are for aesthetic use only! The blocks are obtainable via /function command (See Catalog). This is intended for CREATIVE players. There is currently no way for the blocks to be obtained in survival without using commands at the moment.
Ghoulcraft BE's textures has been recolored to match the popular resource pack "Mizuno Craft". Ghoulcraft BE can be used with vanilla minecraft but it will not match the textures exactly.








TERMS OF USE
Please Read before Proceeding!










(Mizuno's Terms of Use Coming Soon!)
Ghoulcraft is not allowed to be re-uploaded to any websites, aside from MissGhoul's own account pages (Planetminecraft, Ghoulcraft.com, etc) without her express written permission. Her models and textures are not allowed to be used in other packs without her express written permission. Servers (public or private) are welcome to use her resource packs, but are not allowed to charge real-life money for any of the models (If you would like custom models made for your server, please contact MissGhouls directly). Currently, several items in this pack include Mizuno's models & textures (with their express, written permission) and are not allowed to be redistributed, under any circumstances.

Violators of this TOU will be contacted directly by MissGhouls, and legal action will be taken if required. All models & textures (aside from those licensed by Mizuno) are MissGhoul's intellectual property, and belong to her.





Below, you will find a link to the pack, as well as the Bedrock Catalog (which differs slightly from the Java Catalog), as well as several ways to show your support for both creators, and how to join their social communities.
⚠️⚠️Please be aware⚠️⚠️
MissGhouls & her Discord staff will not be able to assist you with bedrock-related questions! Please direct all Bedrock-related questions to Kao's discord so that they may better assist you! 💙
The Bedrock Catalog
Click on the link/image below to visit the Bedrock Edition Catalog!
(While the resource pack is in development, many items will be missing and/or buggy! Please be patient while Kao finishes their work!)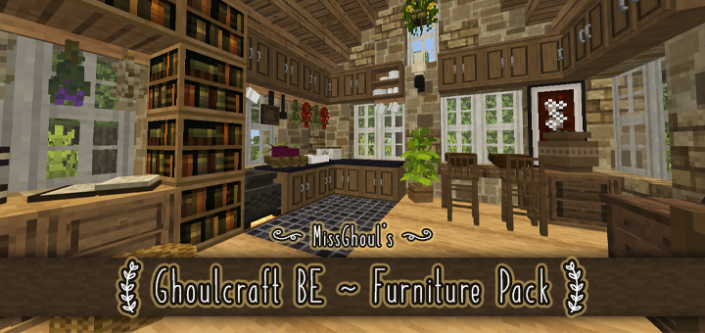 [Click here to visit the BE Catalog!]
-=-=-=-=-=-=-=-=-=-=-=-=-=-=-=-
Join our communities!
Join our Discords & Follow our twitters for updates regarding both packs!
MissGhoul's CIT Discord: [Link]
Kao's Ghoulcraft Discord: [Link]
MissGhoul's Twitter: [Link]
Kao's Twitter: [Link]

Support our work!
MissGhoul's Patreon: [Link]
Kao's Youtube: [Link]
Kao's Ko-fi: [Link]
Please, consider donating, liking, and subscribing if you are appreciative of the resource packs provided to you! MANY hours of work go into these packs to bring you the models, textures, and creativity that you see, and your support means the world to us! 💙
Thank you so much!